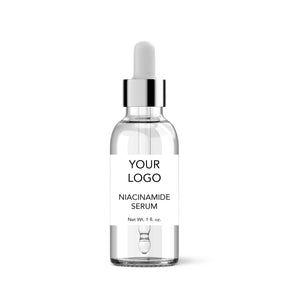 Our Niacinamide Serum is an impressive, efficacious serum made from niacinamide, an effective form of Vitamin B3. With regular use, this serum helps reduce the appearance of blemishes and pores, increase skin's elasticity, and even skin tone. It feels light and absorbs quickly for a fast, visible result.

Ingredients
Aqua, Niacinamide, Glycerin, Agave Americana Leaf Extract, Butylene Glycol, Opuntia Tuna Flower/Stem (Prickly Pear) Extract, Fructooligosaccharides, Beta Vulgaris (Beet) Root Extract, Benzyl Alcohol, Salicylic Acid, Sorbic Acid, Xanthan Gum, Sodium Bicarbonate.
Benefits
Niacinamide boosts hydration, calms redness and inflammation, minimizes the appearance of pores, and helps reduce the appearance of fine lines and wrinkles.



Beetroot moisturizer. 


Prickly Pear protects the skin from the environment just as the plant is protected from harsh temperatures. It acts as an astringent to tighten, minimizing the appearance of pores. It has a high concentration of Vitamin C to act as an antioxidant. It protects and repairs the skin helping it to hold in moisture.

Agave Stem Cells pull water to the areas that need it most. The agave plant can withstand the worst environmental stressors. Used in skincare, it protects the skin from the environment and promotes water retention. It stimulates collagen production in the skin.
Net Weight: 1 fl. oz.
Minimum of 50 units for customizable labels.